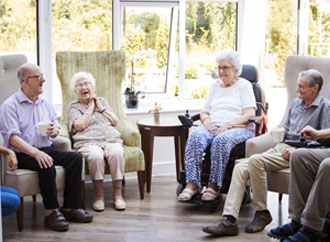 When it comes to long-term car for older adults, the options for senior living are more varied than ever before. Deciding on the best option for yourself or a family member can be complicated. One decision to be made is whether to choose assisted living or a nursing home. The decision between these facilities may seem complicated, but these are the primary differences to consider.


Medical Services
In an assisted living facility, residents have access to different levels when it comes to medical needs. The facility may help by providing medical appointment transportation or help with medication administration. Some may even have special areas for people who have dementia or memory-related conditions. However, people in assisted living are in fairly good health and don't require significant help with medical needs.
Nursing homes provide medical care all the time. The nursing staff assists residents who have chronic illnesses. They provide rehab services for physical, respiratory, speech, and occupational health. Some residents may be there long-term and others may be for rehab after a hospital admission.

Living Spaces
In assisted living, people usually have an apartment with their own kitchen, bedroom, and living room. There are common areas available to participate in group activities or share meals if desired.
Nursing homes usually have individual or shared rooms with an en-suite bathroom. These facilities also have common spaces to share meals or activities.

Assistance with Daily Activities
Residents in an assisted living facility are generally independent although there is assistance available for bathing and dressing if needed. Services such as meal prep, housekeeping, and laundry are available to residents as well who need them.
In a nursing home, most people need more extensive help when caring for their daily needs. Staff members are readily available to help with bathing, dressing, and taking medications. Meals are prepared by a kitchen staff and laundry as well as cleaning are completed.

Costs
Although costs can vary, the cost of nursing home care is about double the cost of an assisted living residence. Depending on insurance coverage, some of these costs may be covered. Medicare will cover some costs of a nursing home or facility if recovering. But you will typically be responsible for some costs for a stay over 20 days.
In general, Medicare will not pay for assisted living or help to pay for activities of daily living. Since rules vary from state to state, it's best to price each facility and check with insurance before making a decision.

Assisted Living Vs. Nursing Home
Although there are many considerations, assisted living is typically for adults who can manage the majority of their own needs but may benefit from some assistance. Nursing homes tend to cater to individuals with more medical needs and that need a greater level of assistance. Determining how much assistance is needed to maintain good health is often a determining factor. If unsure, meet with each facility to discuss needs and which option would be the best fit as they typically have a good idea of what they can offer.